Jim Harbaugh is the Most Overrated Head Coach in College Football History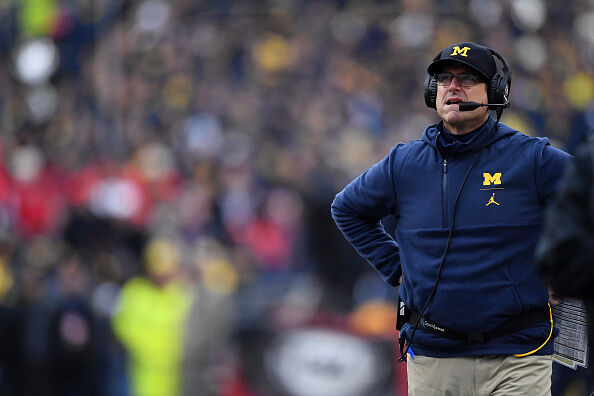 Clay Travis:

"I was one of the first people with any sort of national voice to tell you that I thought Jim Harbaugh was the most overrated coach in the history of college football. I'm not saying he's awful or no good, but relative to the attention he gets, Harbaugh has never been anywhere near what Nick Saban or Urban Meyer has accomplished. In his five years at Michigan, he's been treating as though he was the equivalent of those two guys and was crowned way before he actually accomplished anything. Michigan under Harbaugh is now 1-9 against Top 10 opponents, 1-6 on the road against ranked opponents, 0-7 an underdog, 0-4 against Ohio State, 0-3 in their last three bowl games, and have lost 3 of their last 5 games by 21 points or more. Anyone who voted Michigan in the Top 25 should have their voting rights stripped away."

(Full Audio at Bottom of Page)
Listen to Clay Travis explain why he thinks Michigan Wolverines head coach Jim Harbaugh is the most overrated coach in the history of college football just a couple days removed from Michigan's humiliating 35-14 road loss in Wisconsin that saw Michigan score two garbage time touchdowns late.
Harbaugh is the third highest paid coach in the sport, but has lost at least three games every year in his first four seasons in Ann Arbor, and has wilted in games versus top competition. Clay points out that he's 0-4 vs. Ohio State, 1-9 vs. Top 10 opponents, 1-6 on the road against ranked opponents, and has lost his last three bowl games.
Check out the audio below as Clay details why no other coach gets as much praise in college football than Harbaugh, for a guy who has never won a big game at his alma mater in five years.

Outkick the Coverage with Clay Travis
Want to know more about Outkick the Coverage with Clay Travis? Check out Premiere Networks!
Read more