No, the Kansas City Chiefs Are Not Considering Signing Colin Kaepernick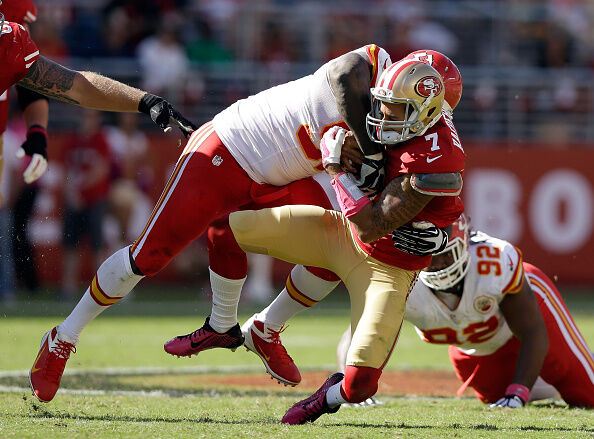 Jason Smith:

"It could be 2045 and somebody will still go 'Hey, go get Colin Kaepernick!'… Kaepernick is OVER and would bring a circus with him wherever he wens. It's not only the kneeling, it's because he's a wild card. It was going around that the Ravens would sign him but then his girlfriend tweets out a picture of Ray Lewis with his arm Ravens owner Steve Bichote and then a picture Samuel L. Jackson with his arm around Leo Dicaprio in Django Unchained. The moment that was tweeted out it was the end of Kaepernick's career."

(Full Audio at Bottom of Page)
Listen to Jason Smith and Mike Harmon explain why Twitter needs to R.E.L.A.X. once again when mentioning Colin Kaepernick's name whenever a starting quarterback in the NFL goes down with a serious injury.
Patrick Mahomes' dislocated knee cap triggered the Kap fanboys once again, dreaming about the possibility of Andy Reid potentially bringing back the 2012, 2013, and 2014 versions of Kaepernick that lit the league on fire.
Jason and Mike, however, are here to wake you up from your fantasies and remind you that Kaepernick is NEVER coming back, and it's not because of the kneeling.
Check out the audio below.

The Jason Smith Show with Mike Harmon
Want to know more about The Jason Smith Show? Get their official bio, social pages & articles on FOX Sports Radio!
Read more