New York Jets May Already Be Looking to Trade Sam Darnold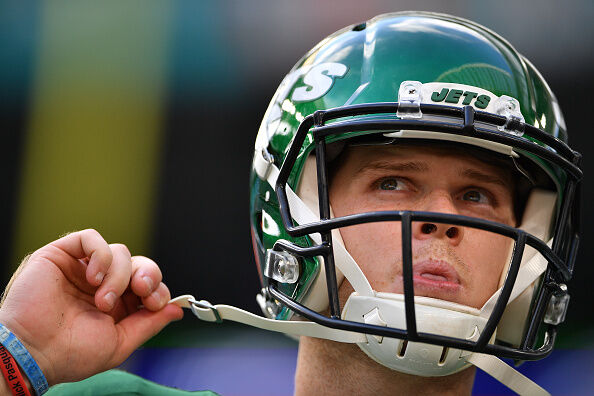 Jason Smith:

"Quarterbacks are evaluated differently now. They don't even have two years now. You have a year if you stink, and in your second year you better be good or a team is going to move on. Dwayne Haskins is going to be evaluated in parts of one season in Washington because they're going to pick high and are going to want a new quarterback with a new head coach. Josh Rosen got evaluated in one year because they had a high enough draft pick where they got Kyler Murray. Sam Darnold is going to be evaluated for two years… If he stinks the rest of this year and they're picking high enough, the Jets will take Tua Tagovailoa or Justin Herbert and trade Darnold."

(Full Audio at Bottom of Page)
Listen to Jason Smith explain why he thinks New York Jets quarterback Sam Darnold could be playing for his job in the second half of the season, as Smith believes we're playing in an era where teams are expecting instant results from their supposed franchise quarterbacks... Anything less could mean you're GONE; even after just a season or two.
Smith believes Darnold's atrocious second season, currently ranking 29th in the NFL in QBR with 6 touchdowns and 9 interceptions, could lead to the former no. 3 overall pick getting 'Josh Rosen-ed'.
The Jets currently stand at 1-7 and would be picking in the Top 5 of the NFL Draft if the season ended today. Smith says if the struggles continue for arguably the league's most disappointing team, there is no guarantee the Jets would stick with Darnold.
Smith thinks the franchise could very easily elect to trade Darnold for first round picks and decide to draft a player the likes of Alabama's Tua Tagovailoa or Oregon's Justin Herbert in the Top 5, and begin a new era with a completely new coaching staff.
Check out the audio below as Smith details why Darnold's days could be numbered in New York.

The Jason Smith Show with Mike Harmon
Want to know more about The Jason Smith Show? Get their official bio, social pages & articles on FOX Sports Radio!
Read more