Overrated 'Game Manager' Jimmy Garoppolo Will Never Be a Star in the NFL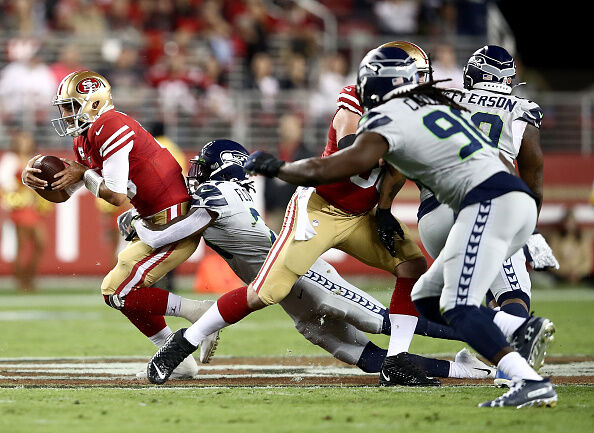 Jason Smith:

"Jimmy Garoppolo is simply a game manager. They paid all that money for him to be the star last night and he had a horrendous fourth quarter and overtime. They need more from Garoppolo who has 'game-managed' his way to 8-1 behind that number one ranked defense. He's only had one 300-yard all year. I'm not saying he's a 'bad' quarterback, but there are lots of other guys that can give you this production. They would be 8-1 with Nick Mullens or CJ Beathard too. You pay $30 million to someone who can win games, not $30 million to someone to be the third most powerful asset behind their defense and running game. LOTS of guys can be giving them what Jimmy G is right now. I've told you for years that he's NOT what he's been hyped up to be. Tap the brakes on calling this guy a star. Niners would be great with ANYBODY. He could have had FIVE interceptions last night!"

(Full Audio at Bottom of Page)
Listen to Jason Smith explain why he's not on the Jimmy Garoppolo bandwagon, a night after the previously budding Pro Bowler posted an ugly 18.9 QBR game in San Francisco's narrow loss to Seattle on Monday Night Football that ended their perfect season.
Despite the team's 8-1 record, Garoppolo ranks 21st in in the NFL in passing yards per game and is only on-pace for a 3,652-yard season, with 25 touchdowns and 14 interceptions –– a decent season 5-10 years ago, but one on the meager side in this current era that overwhelmingly favors the quarterbacks and wide receivers.
Smith doesn't think Garoppolo is a 'bad' quarterback considering he's 18-3 for his career with a passer rating of 96.2 in 35 games, but he firmly believes Garoppolo's ceiling is that of a Kirk Cousins type 'game manager' who has to be carried by an elite defense and powerful running game to be able to consistently lead winning teams.
Check out the audio below as Smith explains why the 49ers would be better off going with much cheaper rookie-deal options of Nick Mullens or CJ Beathard.

The Jason Smith Show with Mike Harmon
Want to know more about The Jason Smith Show? Get their official bio, social pages & articles on FOX Sports Radio!
Read more